2019 Austin Bass Workshop Schedule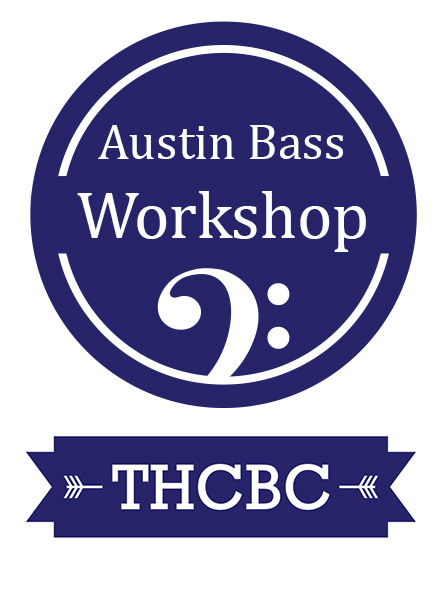 2019 Austin Bass Workshop
July 22nd - 25th 2019
at Westlake High School
4100 Westbank Dr. Austin TX 78746
Please note, this is a tentative schedule some classes may change
Day 1 (July 22)
8:00-9:00 Registration
8:30 Body & Bass
9:00-9:20 Austin Bass Workshop Opening Ceremony
9:30-10:00 Bassercise (Warmups & Scales)
10:00-10:25 Sightread Bass orchestra music
10:30 -12:30 Teacher Workshop
10:30-11:25 Orchestra Skills advanced
10:30-11:25 Group Class led by Guest Artist intermediate
11:30-12:25 Orchestra Skills intermediate
11:30-12:25 Group Class led by Guest Artist advanced
12:30-1:15 Lunch –Provided by Provided by THCBC (15 Minute student recital)
1:15-2:00 Jazz class
2:00-3:00 Ensembles
3:00-4:00 Masterclass Guest Artist


Day 2 (July 23)
8:00 Body & Bass
9:00-9:15 Austin Bass Workshop Morning Meeting
9:20-9:55 Bass Orchestra Sectionals
10:00-10:40 Bass Orchestra Rehearsal
10:30 -12:30 Teacher Workshop
10:45-11:25 Group Class led by Guest Artist Advanced
10:45-11:25 Orchestra Skills intermediate
11:30-12:25 Group Class Led by Guest Artist intermediate
11:30-12:25 Orchestra Skills Advanced
12:30-1:15 Lunch –Provided by Provided by THCBC (15 Minute student recital)
1:15-2:00 Jazz class
2:00-3:00 Ensembles
3:00-4:00 Presentation (Mitch Moehring Strings)
7:30 2019 Austin Bass Workshop Guest Artist Recital @ Westlake United Methodist Church 1460 Redbud Trail, Austin, TX 78746


Day 3 (July 24)
8:00 Body & Bass
9:00-9:15 Austin Bass Workshop Morning Meeting
9:20-9:55 Bass Orchestra Sectionals
10:00-10:40 Bass Orchestra Rehearsal
10:30 -12:30 Teacher Workshop
10:45-11:25 Group Class led by Guest Artist intermediate
10:45-11:25 Orchestra Skills advanced
11:30-12:25 Group Class Led by Guest Artist advanced
11:30-12:25 Orchestra Skills intermediate
12:30-1:15 Lunch –Provided by Provided by THCBC (15 Minute student recital)
1:15-2:00 Jazz class
2:00-3:00 Ensembles
3:00-4:00 Masterclass Guest Artist
4:00 Pickup 2019 Austin Bass Workshop Shirt
Day 4 (July 25) (Wear or Bring Workshop Shirt)
8:00 Body & Bass
9:00-9:15 Austin Bass Workshop Morning Meeting
9:20-10:10 Full Group Rehearsal
10:15-11:25 Ensembles
11:30-12:25 Group Class led by Guest Artist combined advanced/intermediate
12:30-1:15 Lunch –Provided by Provided by THCBC (15 Minute student recital)
1:15-2:10* All State Excerpts & Orchestra Skills
2:15-2:55* Ensembles
3:00-3:55 Presentation "What is it like to be a working musician"
4:00-5:10 Dress Rehearsal (group picture at end)
5:15-6:00 Dinner – Provided by Texas Hill Country Bass Collective
6:30-7:15 Closing Concert
* During the afternoon class times, our guest artists and our faculty will be available for 30-minute private lessons. If you are interested in having a private lesson, please signup on the first day of the workshop when you check in. The lessons cost is an additional $50. Please bring payment in the form of cash or check on the first day of camp.